Let automation work for you
Power Automate is a service that helps create automated workflows between business apps and services to synchronize files, get notifications, collect data, and more.
Power Automate makes it possible to increase business productivity by automating repetitive, time-consuming tasks and provides a better way to get things done across the organization through digital and robotic process automation.
Organizations across all industries need to automate business processes to innovate, save costs, and continue to service their customer's needs. Low-code/no-code tools and platforms are the only way to address automation opportunities – with pre-built business process templates, API catalogues, business logic and rules. Low code tools enable companies to adapt to a changing environment.
More accurate data across systems
Faster output at a lower cost
More time for innovation and strategy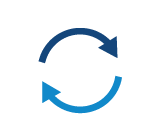 Standardized processes
Improved employee satisfaction
From simple tasks to complex enterprise-wide processes, you can automate any task across your organization with
business process management (BPM), digital process automation (DPA), robotic process automation (RPA), and
artificial intelligence (AI), all accessible in one platform
Microsoft 365 Services & Data Sources
Office Line will help you to target your company's digitalization needs and guide you to a customized solution.
Whatever your goal is, we can work together to ideate and assess project ideas and empower a digital culture across your organization.
Power Platform is highly flexible and offers a huge opportunity to generate business value through mobile-friendly apps, automated business processes and integration with different services.
Our certified team can assist you to create an ecosystem that changes the way you work by integrating technology into every aspect of your business. Digital transformation brings limitless potential for your employees and create opportunities to collaborate from anywhere, on any device.
Securely harness the power of the Cloud with Office Line
Fill in your contact details to learn more about how we can help you to handle any unpredictive data loss situations and keep your productivity and brand stable.